A sweet twist on your traditional banana muffin. By caramelizing your bananas you end up with a sweet burst of flavor that is perfect for a special treat or really any day of the week!
So everyone loves muffins but I don't know about you, but I find that my muffins at home are just never quite as good as the muffins you get at a bakery. I think it's because my muffins never pop up quite as much and don't have that delicious crunchy top - that is until now!
I have done quite a bit of research as to how to get this nice crunch top and I'm happy to say that with these muffins, I have cracked the code! They key for these ones is to fill your muffin cups nice and full, bake for 5 minutes at a high temperate, then reduce the heat - easy as can be!
So now banana muffins are such a classic and one of those muffins that most people tend to fall back on, but this one twists things up a little bit. This one is great when you want a banana muffin but you don't have any overly ripe bananas, or you just want to make something a little bit different and extra special. For me, bananas cooked with a little butter and brown sugar are one of the most nostalgic flavors. When I was young one of my favorite treats was vanilla ice cream with warm bananas. My mom would cut a banana in half, put a little butter then sprinkle with brown sugar and microwave. Not sure where this delightful treat came from but it is seriously so delicious!
So go ahead and switch things up this weekend and make a batch of these, I promise you won't be disappointed.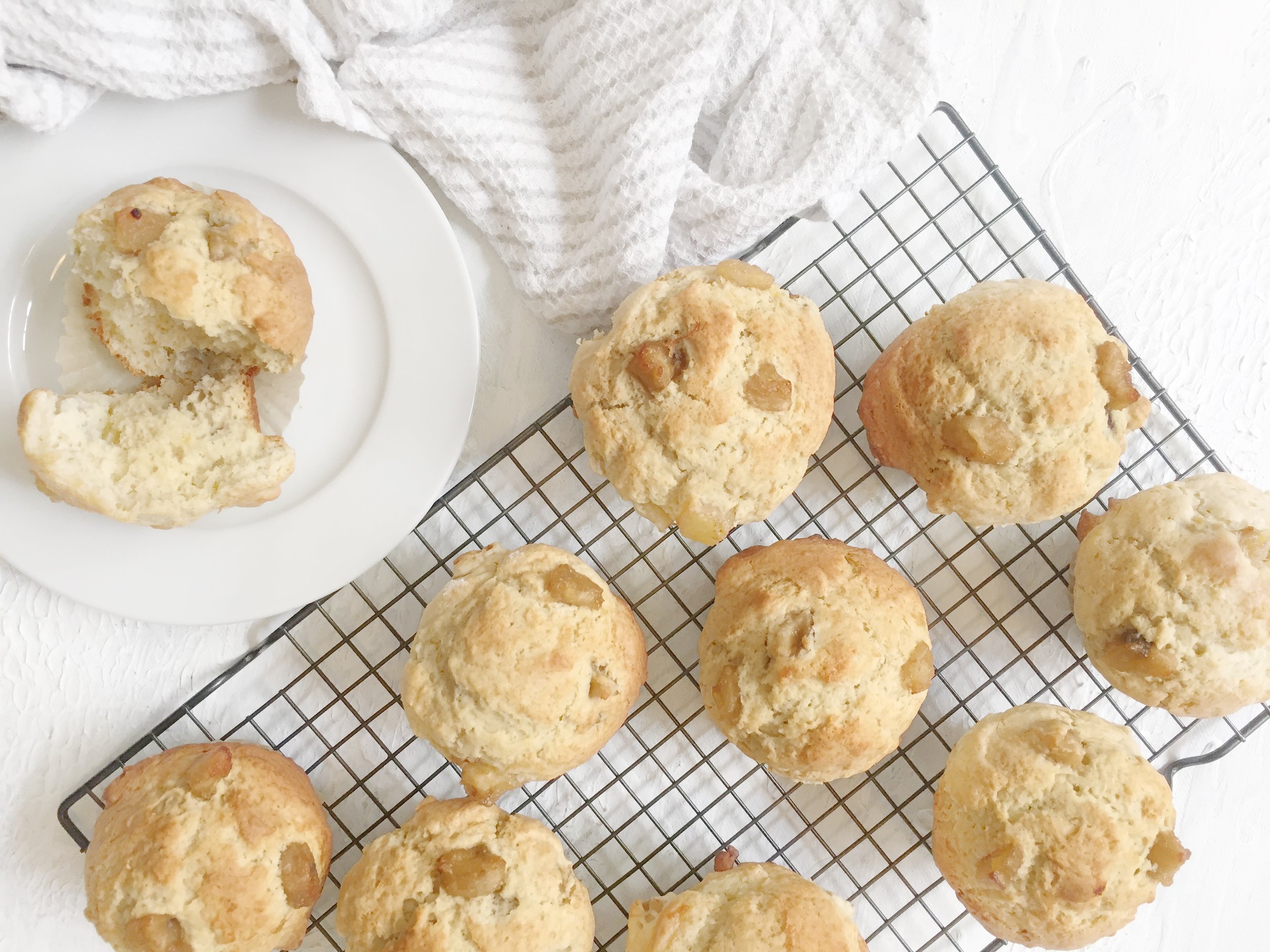 prep time 15 minutes
cook time 25 minutes
total time 40 minutes
servings 12
Ingredients
2 bananas
1/4 cup butter + 2 tbsp
2 tbsp brown sugar
1 cup white sugar
1/4 cup oil
3 tsp vanilla
2 eggs
3 cups flour
4 tsp baking powder
1/2 tsp salt
1 cup buttermilk
Instructions
Preheat oven to 425. In a small saucepan melt 2 tbsp of butter then add in chopped bananas (slice in 1/2 inch slices then into 4 pieces). Sprinkle with brown sugar and sauté for 5 minutes until bananas are soft and caramelized.
In a large bowl combine sugar, oil, melted butter, vanilla and eggs then set aside. In a small bowl combine flour baking powder and salt.
To your liquid mixture add in 1/2 of the flour and half of the buttermilk. Stir until well combined then add in remaining flour and milk. Stir until just combined then add in 3/4 of your caramelized bananas. Divide between 12 paper-lined muffin tins then top with remaining bananas.
Bake for 5 minutes at 425 then reduce heat to 375 and bake another 20 minutes or until browned. Allow to cool on a cooling rack.