The perfect popcorn substitute for your favourite Christmas movie!
Growing up nuts and bolts were a staple in our house at Christmas. Even until today my mom will always have a big batch in the pantry for your snacking needs. During the holiday season it's the perfect swap for popcorn.
Now the question is what Christmas movies do you watch every year. I LOVE Christmas with the Kranks, but Aaron can't stand it. Lucky for me it airs on TV about a million times in the month of December so I catch it at least once without him having to suffer through it. He also hates Elf, which it probably the most controversial thing about him, but I think the scene with spaghetti, maple syrup and soda has ruined it for him forever.
So during this holiday season I highly recommending getting a big bowl of nuts and bots, curling up with a cozy blanket, and enjoying your favourite movie - even if it's Elf!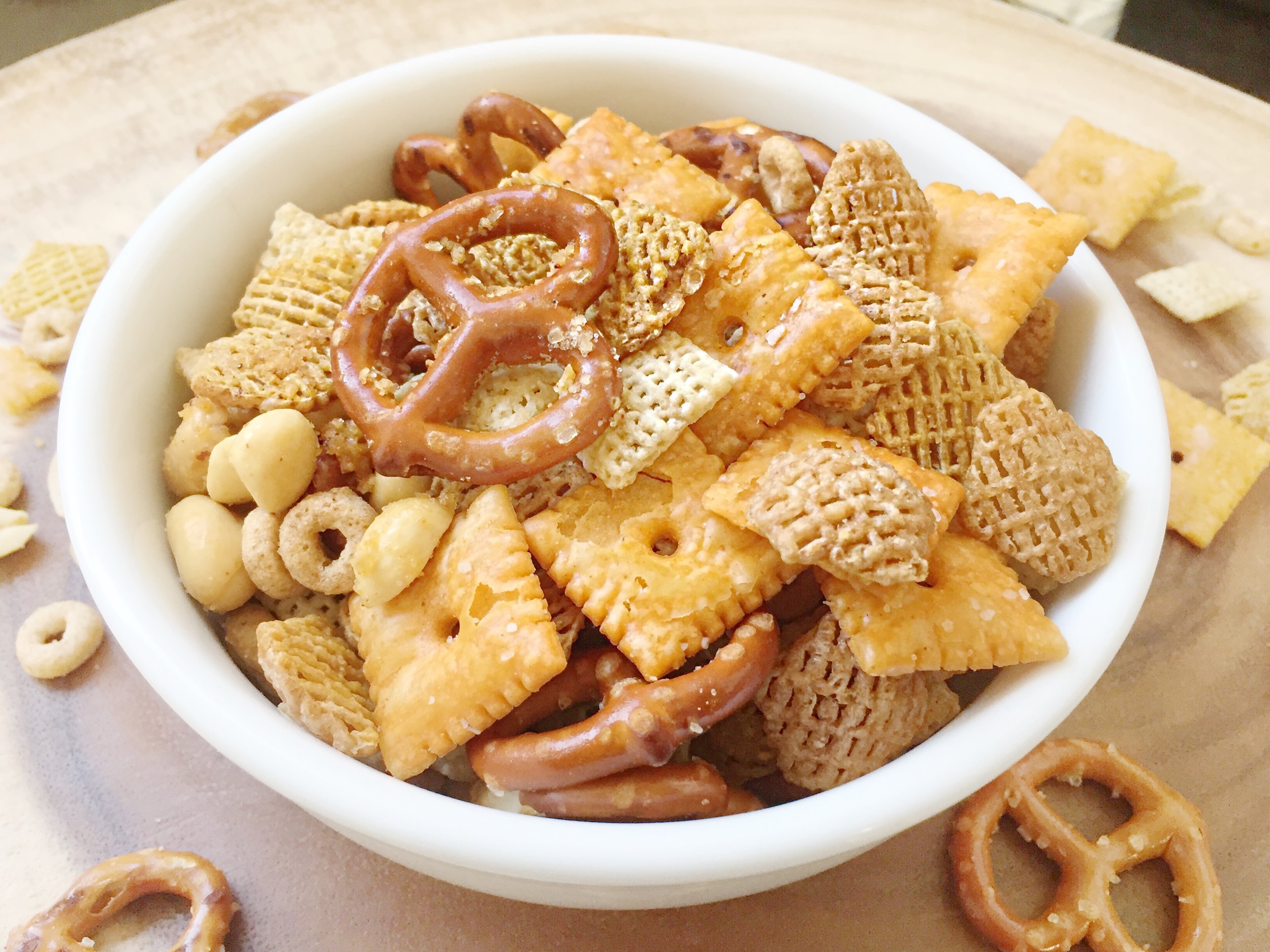 prep time 15 minutes
cook time 1 hour 30 minutes
total time 1 hour 45 minutes
servings 23 - 1 cup servings
Ingredients
1 cup butter
1 tbsp onion powder
2 tbsp seasoning salt
1 tsp garlic salt
23 cups of cereal, pretzels + peanuts
Instructions
Preheat oven to 250. In a very large bowl measure out 23 cups of cereal. I like to use a mixture of cheerios, crispex, shreddies, cheez-its, peanuts + pretzels.
In a small saucepan melt butter. Add in onion powder, seasoning salt + garlic salt and stir until well combined. Pour butter mixture over cereal and stir well.
Portion cereal onto 2 baking dishes with high sides and bake for 90 minutes - stirring every 15 minutes. Allow to cool completely before serving.