This is the best way to eat the classic Caesar Salad. You will impress your guests with this grilled version and it's also a great vegetarian option since it has smokey almonds rather than the traditional bacon.
Ok, so this recipe that I am sharing today is honestly one of my favourite of all time. If you're like me you have probably ordered a ton of Caesar salads at restaurants and all too often they are a bit disappointing. Now, that being said, have you ever ordered one that is grilled? I have to say I have NEVER been disappointed in any grilled salads that I have ordered.
So if you're the person that is sometimes intimidated to make things that seem a bit fancier this is a great recipe to dip your toes in the water with. It seems like something you would save for a special occasion but it is seriously so easy to do. So next time you are having a BBQ make this, I promise you, you will not be disappointed.
Now, this version is such a great combo with the smokey almonds and parmesan crisps, but if you like things a bit more classic you can certainly use crispy bacon (or pancetta) and your favourite croutons and no one will complain, I promise!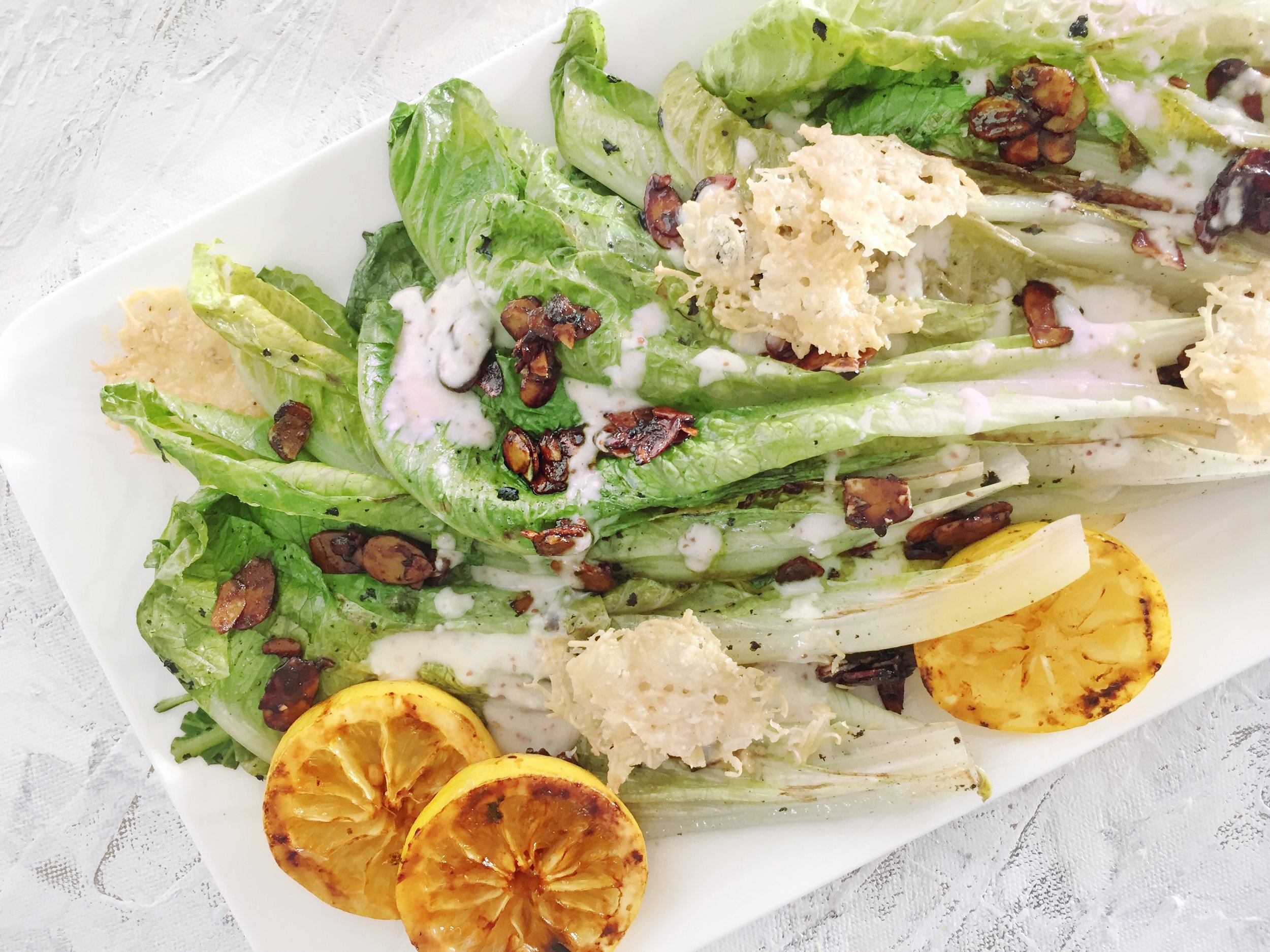 prep time 20 minutes
cook time 45 minutes
total time 1 hour 5 minutes
servings 2 - 4
Ingredients
2 romaine hearts
1/2 olive oil + 1 tbsp
1 cup grated parmesan
2 lemons
2 garlic cloves
1 tbsp grainy mustard
salt + pepper to taste
1/2 cup Smokey Almonds (recipe below)
Parmesan crisps (recipe below)
Instructions
In a food processor combine 1/2 cup olive oil, grated parmesan, zest + juice of 1 lemon, garlic and mustard. Blend until smooth and garlic is pureed. Season with salt + pepper to taste.
Wash each head of romaine hearts then slice in half lengthwise. Drizzle each half with the 1 tbsp of remaining olive oil and season with salt + pepper. Using a BBQ or a grill pan grill your lettuce until it begins to wilt and it begins to get slightly charred (approx. 2-3 minutes per side). While lettuce is wilting put on sliced lemons and allow to char as well.
Top grilled romaine with smokey almonds, parmesan crisps and a drizzle of the Caesar dressing. Garnish with grilled lemons on the side.
Smokey Almond
1/2 tsp tomato paste
1 tsp olive oil
2 tsp agave syrup (or maple syrup)
2 tbsp soya sauce
1/4 tsp liquid smoke
1/2 cup slivered almonds
Preheat oven to 250. In a small bowl combine tomato paste, olive oil, agave, soya sauce and liquid smoke. Stir until well combined. Add in slivered almonds and toss to coat. Pour onto a parchment lined baking pan and bake for 30 minutes stirring halfway through.
Parmesan Crisps
1/2 cup parmesan
Preheat oven to 400. Using a microplane or the fine side of a block grater grate parmesan very finely. On a parchment lined baking tray place 1 tbsp of the parmesan in a small pile. Continue until all of the cheese is used up being sure to leave 1 inch between each pile. Bake 3-5 minutes or until parmesan is crispy and lightly browned. Allow to cool.