These smokey cauliflower steaks are a perfect meat alternative for your next dinner.
So last week was soooooo cold here in Calgary, and I don't know about you but when it's feeling like -40 outside all I want to do is stay inside. So needless to say last week was the perfect week for testing out some new recipes.
Now a few months ago I was watching Gordon Ramsey's Master Class and he made cauliflower steaks, and ever since then, I have been dying to make them. My only problem was that while we were in California I didn't have an oven-safe frying pan so I had to wait until I got home to my own house and not an Airbnb.
I had been planning to make cauliflower hot "wings" on the weekend but that was quickly overridden by my realization that I could finally make those cauliflower steaks I had been thinking about for so long. Now, these are not Gordon Ramsey's, but they are my own version which has smoked paprika and dried mustard which are 2 of my favourite spices. I also served these with microgreens and I think the combination is perfect. the fresh crunch is a great addition to the smokey lemony flavour.
You also want to marinate these for a minimum of 4 hours but they also stand up to longer, so if you want to prepare the night before you have a really nice and quick dinner for a busy weeknight! So go ahead and cook up a cauliflower steak this week!!!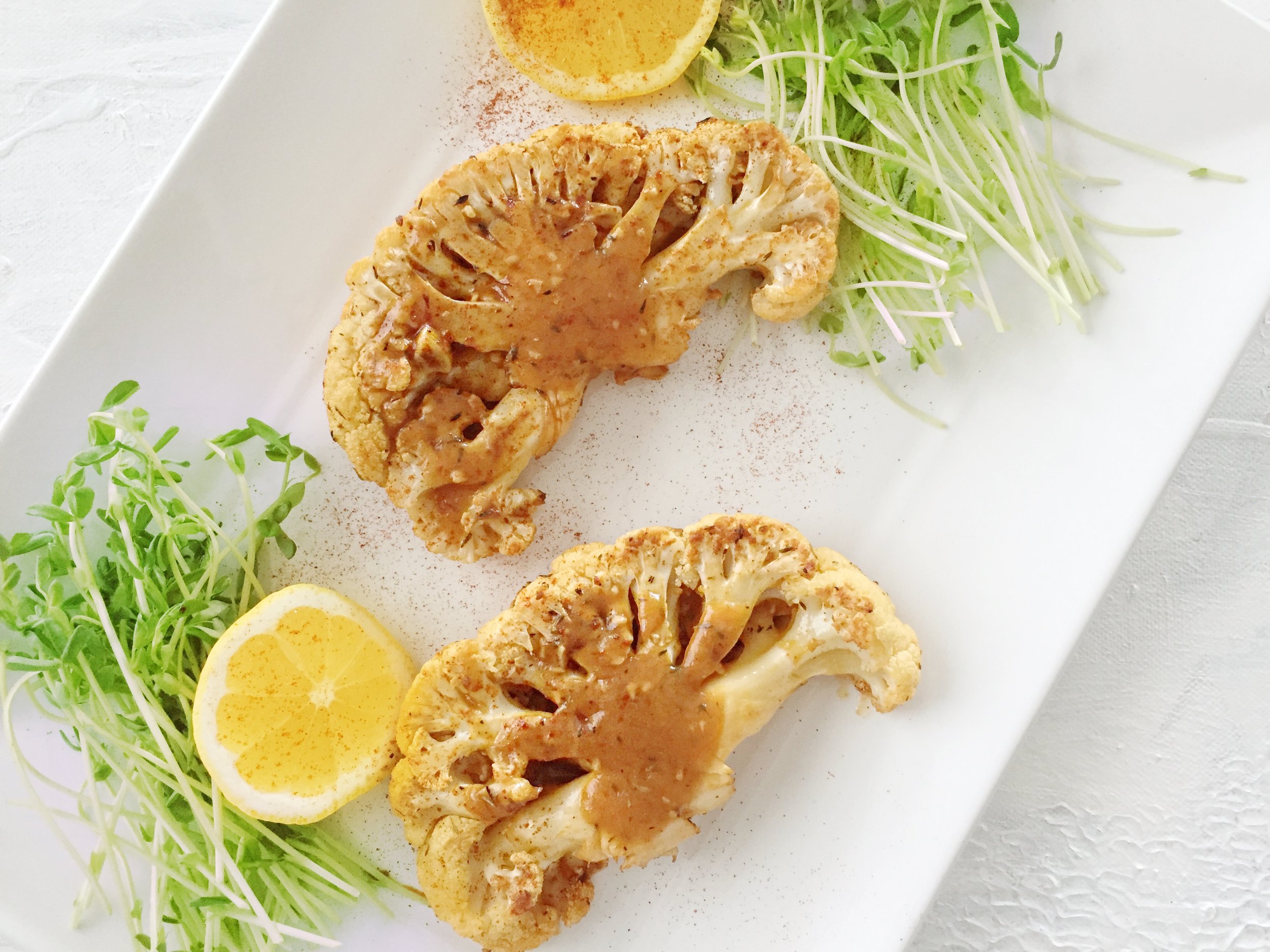 prep time 10 minutes + 4 hours to marinade
cook time 30 minutes
total time 40 minutes
servings 2 - 4
Ingredients
1 large head of cauliflower
2 tbsp oil
1/2 tsp thyme
1 tsp smoked paprika
1 1/2 tsp dry mustard
1 lemon
6 cloves of garlic
2 tbsp butter
1 tbsp corn starch
4 tbsp hot water
salt to taste
Instructions
In a small bowl combine oil, thyme, paprika, dried mustard, juice of half of the lemon and 3 cloves of garlic finely chopped. Set aside.
Wash and dry your cauliflower then turn upside down and carefully cut off all of the leaves. Turn over so your stem is down the using a large knife slice your cauliflower into "steaks" 1 - 1.5 inches thick (you will get between 2-4 steaks depending on the size of your cauliflower). Save the ends of the cauliflower for another use.
In a ziplock bag place, your "steaks" then pour in your marinade. Set in the fridge for a minimum of 4 hours.
Preheat oven to 350. In a large oven-safe frying pan place butter, 3 cloves of smashed garlic and slices of your remaining 1/2 of the lemon. allow for butter to melt and garlic to become fragrant.
Carefully remove your cauliflower from your ziplock and place in the frying pan. Allow to fry for 3-4 minutes on each side or until nicely seared. Once each side is browned place frying pan in the oven and bake for 10-15 minutes or until your cauliflower is fork tender.
Remove from oven - place cauliflower on a serving tray and drain all but 1 tsp of butter from the pan. In a small bowl combine corn starch and hot water and stir to remove any lumps. Add your corn starch mixture to the frying pan and stir well being sure to scrape the bottom of the pan. Season with salt to taste. Pour thickened pan drippings over your cauliflower or on the side.