Looking for a way to elevate your broccoli game? Give this bright flavour combo a try tonight!
Do you have a love-hate relationship with broccoli? If so don't worry, you're not alone. Now the only problem is that many Dr's recommend that you actually eat broccoli every day and unfortunately if you're eating it steamed or boiled you are in for a very boring side dish!
So why not switch things up and add a little pizzaz to your broccoli. I feel very strongly that broccoli needs to be roasted not steamed - it allows you to enhance the flavours and add in some freshness and spice!
One of the best parts about this is the addition of toasted almonds, and the best part is that they "toast" with the broccoli so you're not dirtying numbers pans and dishes.
One last trick for roasted broccoli make sure you are doing it on a high temperature - none of this 350. You want your broccoli to char a bit and cook fast. This helps it to crisp up so you can keep that crunchy texture which in my opinion is key.
So while you may not start eating broccoli every day perhaps you can sneak it in a few times a week!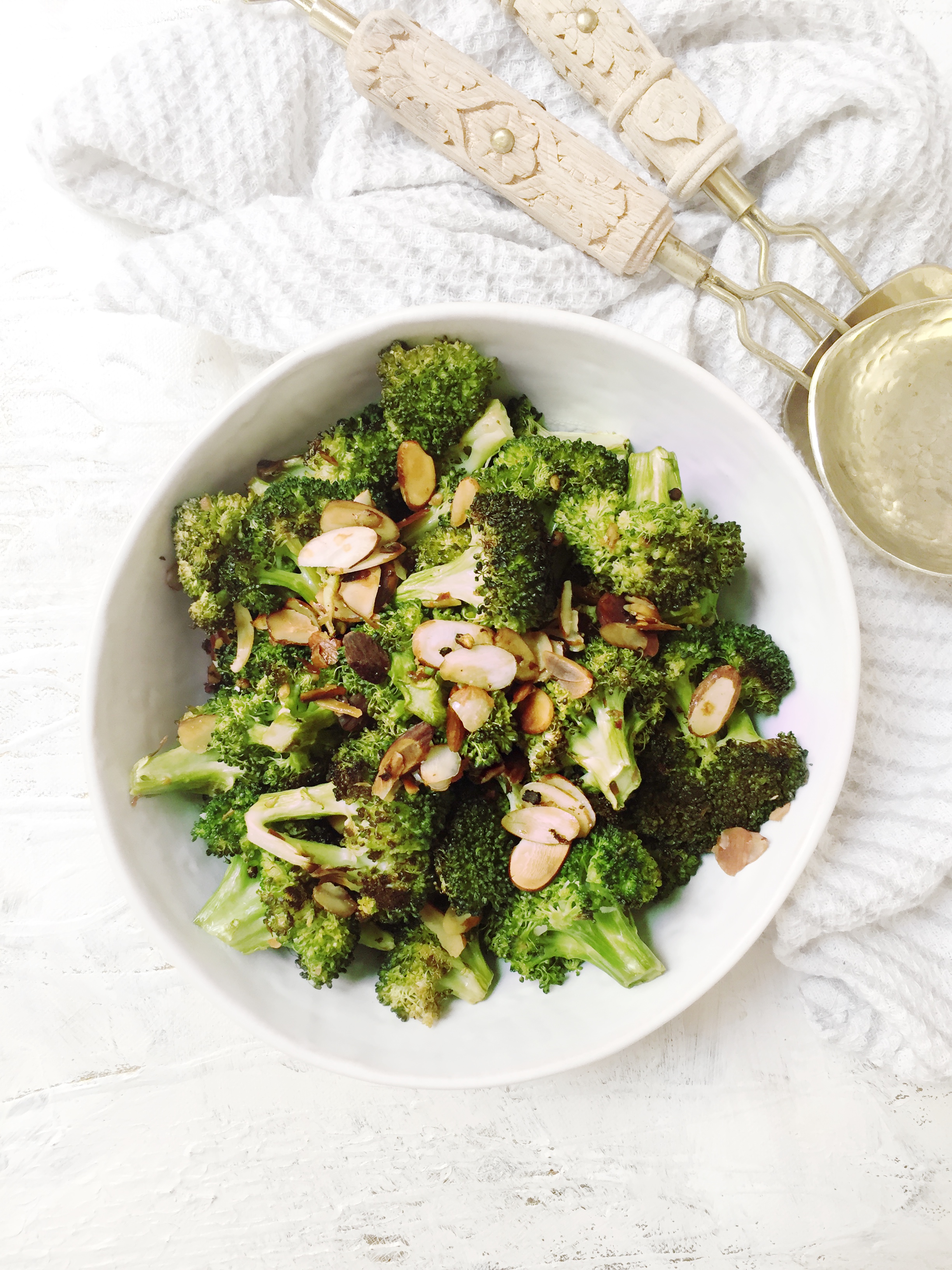 prep time 10 minutes
cook time 20 minutes
total time 30 minutes
servings 4
Ingredients
4 - 6 cups broccoli florets
3 cloves of garlic
1/4 cup olive oil
1/8 tsp red pepper flakes (optional)
salt + pepper to taste
1/4 cup slivered almonds
1 lemon
Instructions
Preheat oven to 425. Wash and dry broccoli then separate into florets. Place broccoli on a baking sheet then drizzle with olive oil, thinly sliced garlic, red pepper flakes, the zest of 1 lemon and season with salt + pepper. Toss to coat then bake for 10 minutes. Remove from oven, flip over each floret and sprinkle with slivered almonds. Bake another 8 minutes or until slightly charred. Remove from oven and squeeze with the juice of 1 lemon. Serve immediately.