So I know this isn't exactly a classic Taco Tuesday food choice, but it's still Mexican, it's a bit spicy, and it includes salsa - so close enough for my liking!
Now if your anything like me you sometimes just want simple, tasty food that you can throw together in literally no time at all, but it is also meat-free. In our house, we try to do a meat-free meal at least once per week, and I'm not going to lie - it can be a struggle sometimes. That's where these quesadillas come in - they make for a perfect canvas for a classic treat with a veggie twist!.
For me, I think that if you are going to do something vegetarian you need to have interesting flavours, especially if you're cooking for people who generally eat meat. This quesadilla checks off all of the boxes with chipotle flavoured mushrooms and the sweet and spicy pineapple peach salsa - seriously, meat-eaters won't even notice it's missing.
So I use to always cook my quesadillas in a frying pan with a bunch of butter to help it not stick - but then I was introduced to this oven-baked version. It's so easy, mess-free (no flipping) and skips the extra calories in all that butter. Plus, it gives you time to prep your salsa, so win-win! Now speaking about this sweet salsa. It is certainly a shift from the classic but it's soooo good. The spice of the chipotle is perfectly complemented with the sweet acidity of the pineapple.
So whip this together tonight and extend Taco Tuesday to any night of the week - I'm sure you won't hear any complaints!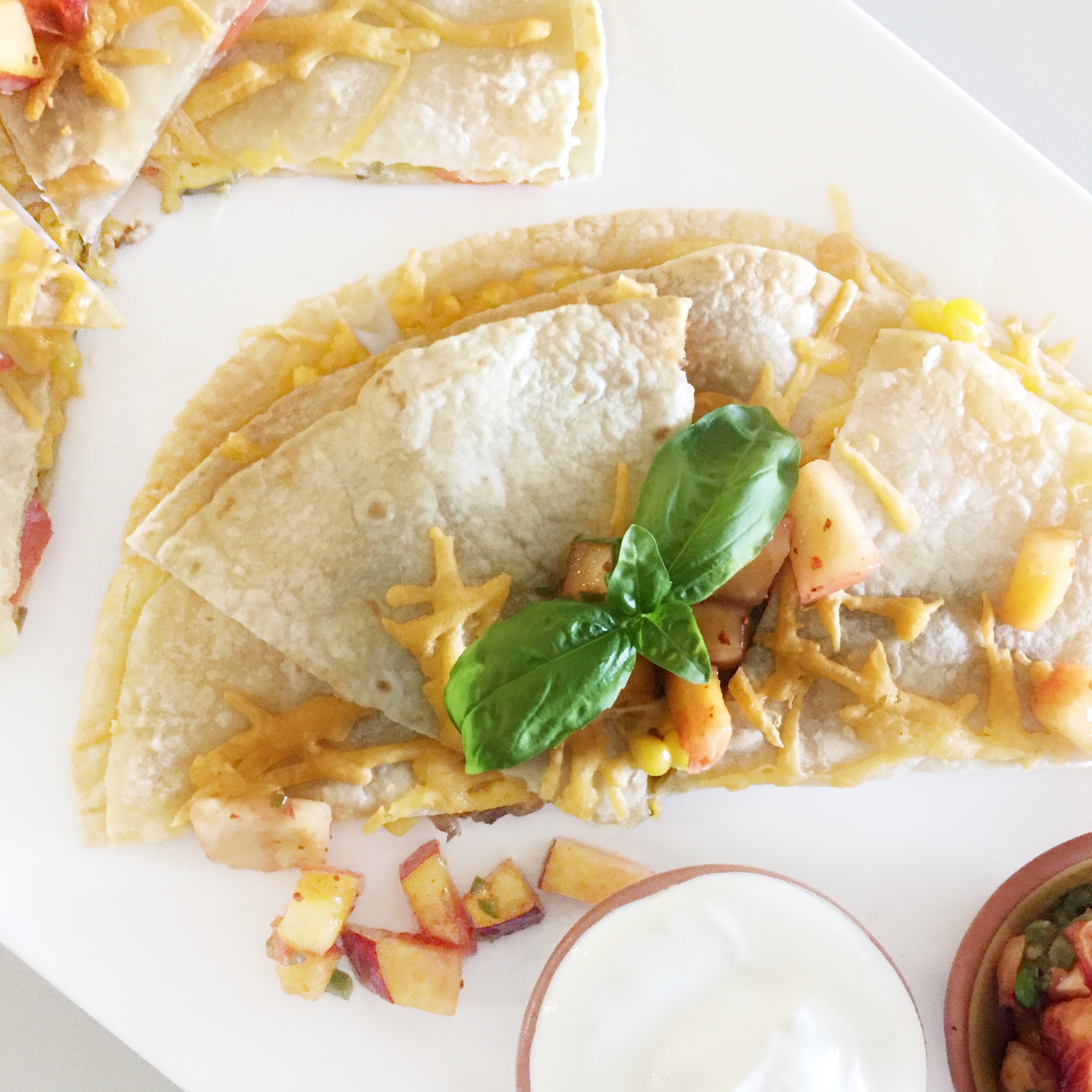 prep time 10 minutes
cook time 30 minutes
total time 40 minutes
servings 4
Ingredients
1 tsp olive oil
2 red pepper
1/2 white onion
8 large mushrooms
3 cups fresh spinach
1/2 tsp garlic powder
1/2 tsp chipotle powder
1/2 tsp cumin
2 1/2 cups shredded cheese
8 tortillas
1 cup pineapple
1 peach
1/2 - 1 jalapeno seeds removed
1 tsp tajin
Instructions
Preheat oven to 350. In a large frying pan drizzle in olive oil then add in sliced peppers and onions and cook for 5 minutes then add in sliced mushrooms and cook another 2-3 minutes or until mushrooms are soft. Sprinkle in the garlic powder, chipotle powder and coming and toss until all of the vegetables are coated. Add in spinach and continue cooking until spinach is wilted then remove from the heat and set aside.
To assemble your quesadillas lay 4 of your tortillas on 2 baking sheets and and sprinkle 1/4 cup of the cheese over each one. Evenly spread out your vegetable mixture then top with remaining cheese. Place the remaining tortilla shells on top of the 4 quesadillas then bake for 15-20 minutes or until golden and crispy.
While the quesadillas are baking make your salsa. In a medium bowl combine finely chopped pineapple, peach, jalapeño and tajin and toss.