These sweet + salty cookies just might be the best of both worlds. The sweetness from the chocolate and the salty crunch of the pretzels make the perfect cookie combination.
I first started thinking about making these cookies after watching an episode of Chefs Table with Christina Tosi. It was such a great episode and she made so many things that I have tried/still want to try. The first recipe of her's that I tried was her cereal milk ice cream and it was AMAZING.
For some reason I have been thinking about these cookies for a long time and just haven't gotten around to making them until now. Unfortunately I didn't have all of the ingredients on hand so I did a bit of improvising and came up my version. I still need to try the original recipe but after my husband proclaimed that these are the best cookies I have ever made, it might be a hard sell to try something new.
Anyways try these cookies but also watch that episode of Chef's Table. It had me so inspired I literally watched it 2 days in a row. In fact, I might just go and watch it right now!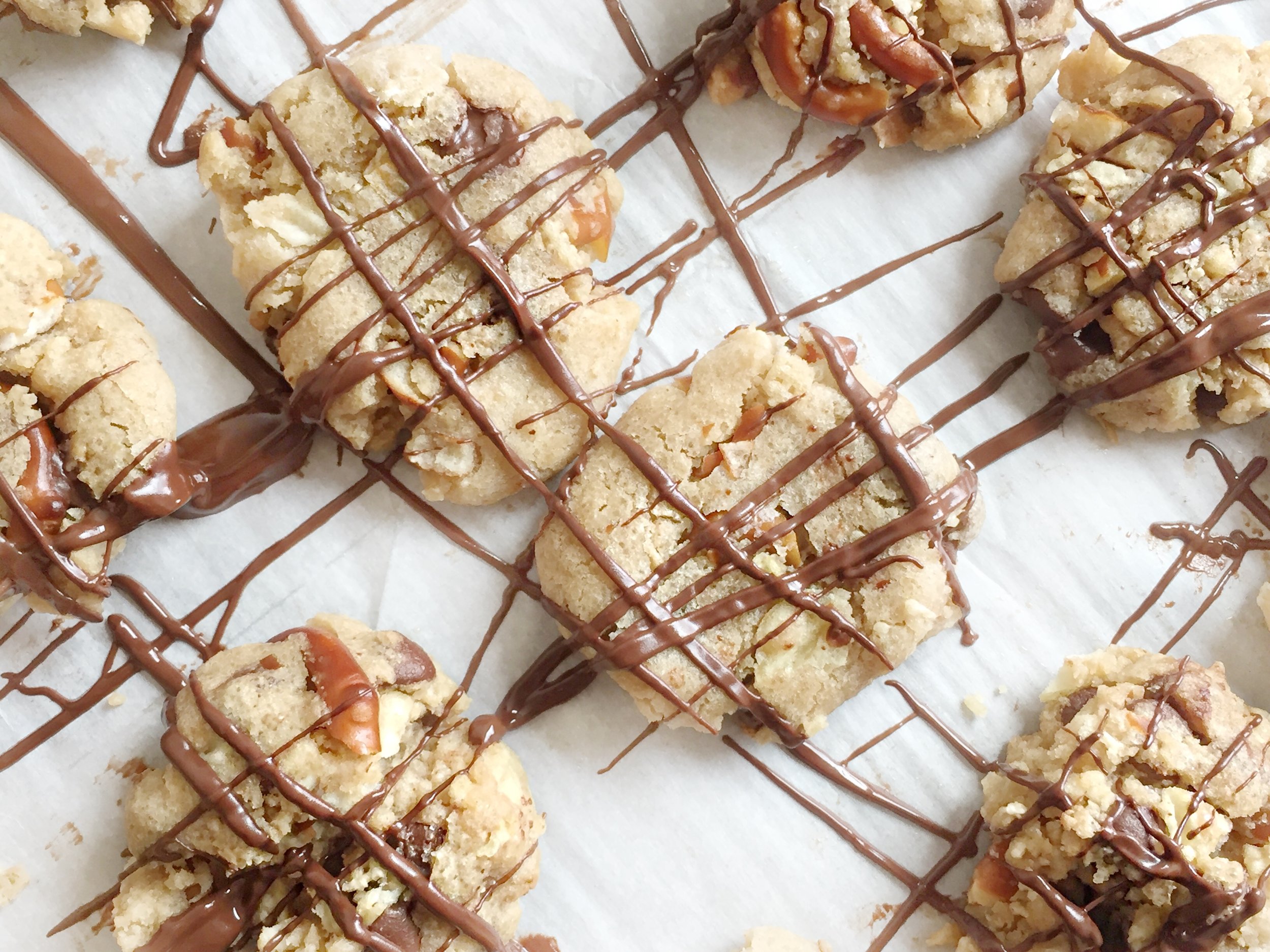 prep time 45 minutes
cook time 15 min x 3 batches
total time 90 minutes
servings 35 cookies
Ingredients
1 cup butter
1 1/4 cup granulated sugar
2/3 cup brown sugar
1 egg
1 tsp vanilla
2 cups flour
1/2 tsp baking powder
1/4 tsp baking soda
1 1/4 tsp course salt
1 cup each of crushed plain potato chips, pretzels + Chex (or anything else salty + crunch)
1 cup chocolate chips + 1/2 cup to drizzle over the top
Instructions
In a large bowl cream together softened butter, sugars, egg and vanilla until fully combined and fluffy. In a small bowl combine flour, baking powder, soda + salt. Stir until combined. Slowly being adding flour into your butter mixture and stir until fully combined.
Add in your everything mix and chocolate chips and stir until it comes together (it will be dry and crumbly). Form into 1 inch balls, press down and then place in freezer for 10 minutes to complete cool.
Preheat oven to 375, place cookies on a parchment lined baking sheet. Bake 12-15 minutes. Allow to cool on a cooling rack.
Once cookies are cooled put 1/2 cup on chocolate chips in a small bowl in the microwave for 45 seconds stoping 1/2 through to stir. Drizzle chocolate over cooled cookies. Allow to cool completely before putting into sealed bags or an airtight container.