Do you love Nutri-Grain Bars but you don't love all the sugar? These bars have no refined sugar and are full of all of the good things you actually want to be eating!
I have actually wanted to make nutri-grain bars for years now but I think I was a little bit afraid. Not going to lie, they seemed a little complicated and I just didn't want to tackle them. Regular granola bars just always seemed easier and since I make them so often I always know they will turn out
So let me tell you when I finally attempted these a bit ago I was so pleasantly surprised at how easy they were to put together. The best part is that you don't even need to try to figure out how to seal the bottom. Since you quickly throw them in the freezer before you bake them they actually just stay together and all your filling doesn't spill out the bottom.
Now I also made my own jam for the centre which is really the best way to control your levels of sugar, but if you don't want to bother making your own you can certainly use your favourite jam or preserve. But one thing I will say, making chia seed jam is SUPER easy and well worth the extra effort.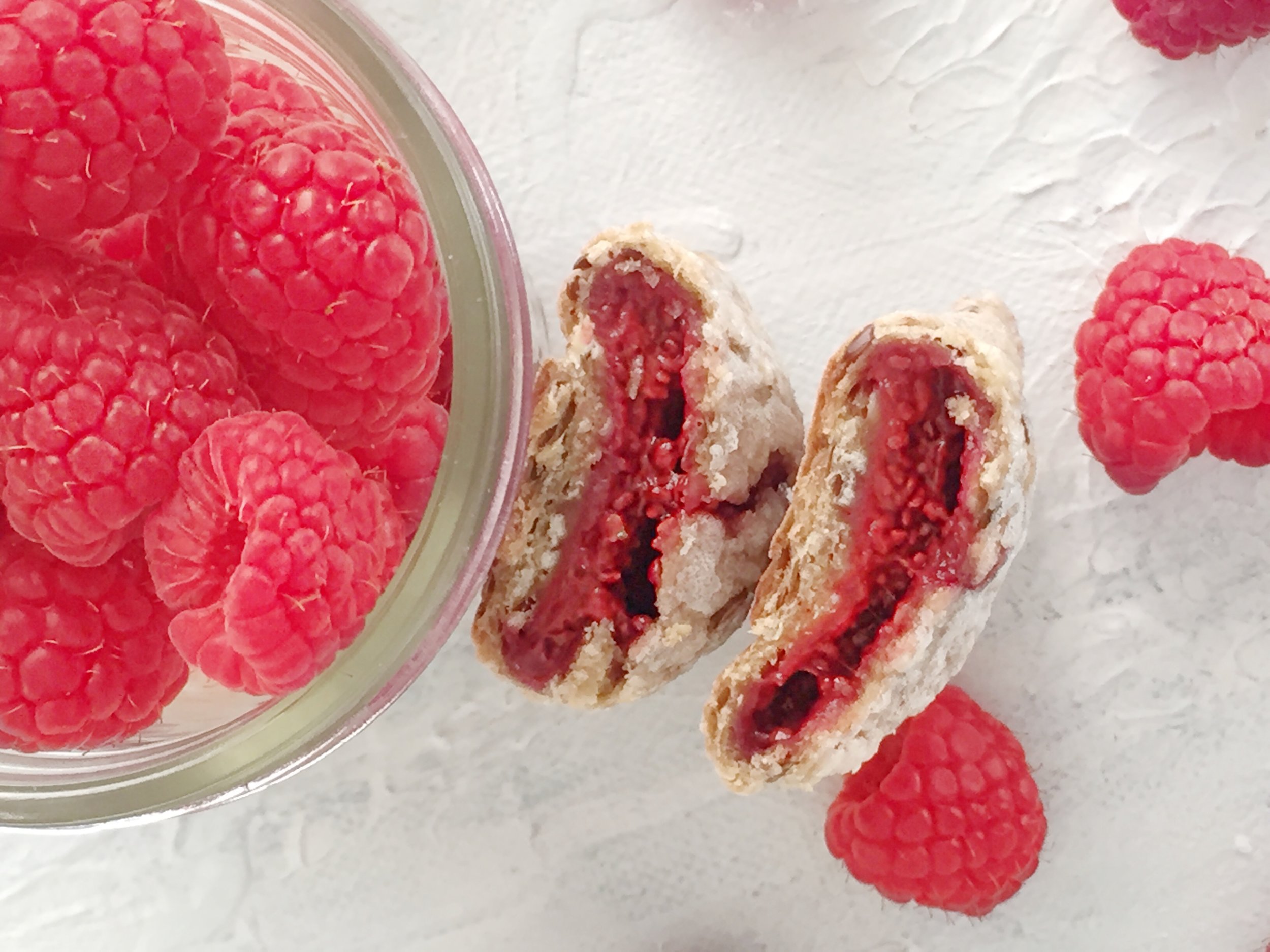 prep time 20 minutes
cook time 20 minutes
total time 40 minutes
servings 8 bars
Ingredients
1 cup flour
1 cup oats
1/2 tbsp cinnamon
1/4 tsp salt
3 tbsp flax seeds
1/4 cup cold butter
1 egg
2 tsp vanilla
4 tbsp honey
Instructions
Preheat oven to 350. In a medium bowl combine flour, oats, cinnamon, salt + flax seeds. In a small bowl combine egg, vanilla and honey.
Using a cheese grater grate butter into your dry ingredients then toss so that butter is coated in the flour. Add in your wet ingredients and stir until combined and you can form into a ball.
On a floured surface roll out your dough into a rectangle that is 16 inches wide by 8 inches high. Cut your dough into 4-inch squares then place 1 tbsp of the jam in the centre of the square in a rectangular shape. Fold one side up to the centre of the bar and seal your top and bottom edges then repeat with the other side. Place them seam side down on a parchment lined baking sheet. Continue until all bars are completed.
Place your bars in the freezer for 10 minutes then bake for 15-20 minutes until lightly golden brown. Store in a sealed bag for 3 days or place in your freezer.
Chia Seed Jam
2 cups frozen raspberries
1/4 cup chia seeds
1 tbsp vanilla
1/4 cup honey
2 tsp lime juice
In a food processor combine all ingredients and blend until fully combined. Refrigerate a minimum of 4 to allow it to come together. Store in your fridge up to 1 week.